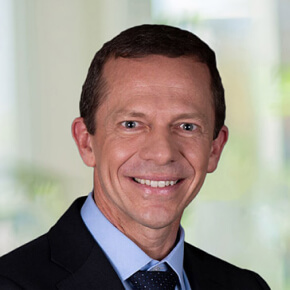 Zachary Ballard Head of Regions, LATAM, Japan and ASPAC, and Ortho Care™
Zachary Ballard
Zachary Ballard is head of regions, LATAM, Japan and ASPAC, and Ortho Care™ for Ortho Clinical Diagnostics. He oversees commercial operations in Latin America, Japan and Asia-Pacific, and is responsible for driving Ortho's relationship with its customers.
Ballard joined Ortho in 2015 to lead service and consulting and helped the company move from last place (No. 5) to first in ServiceTrak for three consecutive years and win two global Stevie Awards for service, differentiating in the market under the new Ortho Care™ name. In 2017, Ballard expanded his role to become chief customer officer, charged with becoming a catalyst to accelerate Ortho's focus on the customer.
Ballard has extensive leadership experience in the commercial side of the medical devices industry, as well as management experience in both R&D and manufacturing in other industries. In the medical devices industry, he has led service businesses in both the in vitro and the in vivo markets.
Before joining Ortho Clinical Diagnostics, Ballard led all Siemens Healthcare service for Southwest Europe. He also served as vice president of Europe, Middle East and Africa service for the in vitro diagnostics business, progressing from country and regional leadership roles, and combining the service organizations of the three in vitro diagnostics companies purchased by Siemens. Ballard was with Hewlett-Packard for a decade in management roles in R&D and manufacturing.
Ballard holds a Master of Science degree from Stanford University in manufacturing system design and a Bachelor of Science degree in mechanical engineering with a minor in Spanish studies from the University of California, San Diego, where he graduated cum laude and rowed on the varsity crew team. He also holds a master's degree in healthcare administration from IESE Business School in Spain.