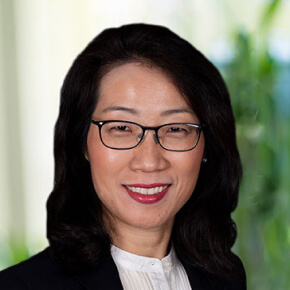 Christina Kim Head of Business Processes and Key Initiatives
Christina Kim
Christina Kim, head of business processes and key initiatives at Ortho Clinical Diagnostics, is responsible for global commercial insights and market intelligence. In this role, she identifies and establishes critical business processes and enabling capabilities including sales enablement and customer relationship management improvements.
Since Kim joined Ortho in 2015 as head of portfolio management, she has built and strengthened the company's portfolio planning and prioritization, R&D project management, product development process and market intelligence.
Kim had more than 20 years of experience prior to joining Ortho. Previously, she was vice president of divisional business development at Merck kGaA, EMD Millipore, responsible for the life sciences unit's equity transactions, strategic planning and competitive intelligence.  She has held progressive leadership roles in strategic planning, business development, strategic marketing, sales and product marketing at EMD Millipore, Gentek, Inc. and Konica Graphic Imaging.
Kim holds a Bachelor of Science degree in chemical engineering from Cornell University and a Master of Business Administration in marketing from St. John's University.