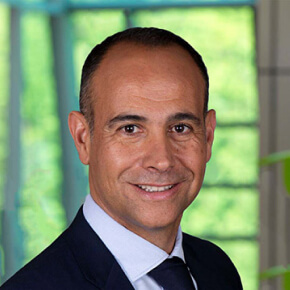 Joan Martin Head of EMEA
Joan Martin
Joan Martin, executive vice president and head of EMEA for Ortho Clinical Diagnostics, directs the company's commercial operations in Europe, the Middle East and Africa.
Martin, who joined Ortho in 2018, has more than 25 years of leadership experience, including almost two decades in both mature and developing markets in the health care industry.
Prior to Ortho, he led EMEA commercial operations for Accelerate Diagnostics, where he created the company's EMEA commercial organization and regional launch strategy.
Previously, Martin held senior roles with Dade Behring and Siemens, where he rose to be senior vice president of healthcare diagnostics for southwest Europe and west Africa, with a primary and broad geographical focus in IVD diagnostics as well as key area responsibilities in imaging diagnostics. Earlier, Martin, held different key finance and operation responsibilities in several companies, including PwC.
Martin has a licentiate degree in economy and business administration from the University of Barcelona in Spain, and he studied project management at the University of California, Berkeley.