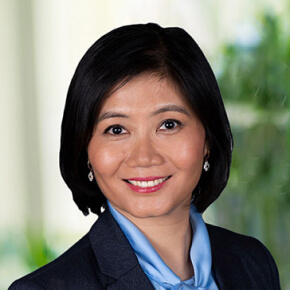 Iris Lin Head of Greater China
Iris Lin
Iris Lin is head of Greater China for Ortho Clinical Diagnostics, overseeing Ortho's commercial operations in the region.
Lin has more than 20 years of commercial experience in sales, marketing and business development, including more than 15 with Ortho. She previously led Ortho's clinical labs menu business, driving portfolio strategy for all the company's clinical lab assays and launching a number of new assays that further expanded Ortho's competitive product portfolio.
Prior to that role, she was vice president of Ortho's Asia-Pacific region, a responsibility that included leading the region's commercial operations and overseeing the transition of country operations as Ortho became an independent company, where she guided the region's improved performance by building a strong team that consistently delivered exceptional results.
Lin holds a Bachelor of Arts degree from Sun Yat-Sen University in Guangdong province, China, as well as Master of Business Administration degrees in business and marketing from the University of Iowa.